Engine Performance Tips Blog
The Engine-Performance-Tips Blog is an online journal into my website.....
...it will let you know whenever any new Web pages appear on Engine-Performance - Tips website, telling you about a problem car I someone else came across.
...keeps you update with my classes or tips on passing the class.....
Smog Tech Training
Smog Tech Training for a low and reasonable price with online study guide to help you PASS the Smog Inspector or Smog Technician Repair Examination.
SMOG INSPECTOR LICENSE CLASSES
Abram Friedman Occupational Center just open a class for the Inspector 'Smog" License.....
Misfire Buick LaSabra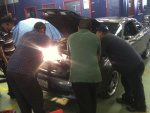 Misfire Buick LaSabra - a Buick LaSabra misfire cause a No Start Condition?
CLICK the LINK BUTTON and SHARE with your FRIENDS !!!  
---