Engine Performance Tips Blog
The Engine-Performance-Tips Blog is an online journal into my website.....
...it will let you know whenever any new Web pages appear on Engine-Performance - Tips website, telling you about a problem car I someone else came across.
...keeps you update with my classes or tips on passing the class.....
Smog Tech Training
Smog Check Inspector and Repair Technician Training
SMOG INSPECTOR LICENSE CLASSES
Abram Friedman Occupational Center just open a class for the Inspector 'Smog" License.....
Misfire Buick LaSabra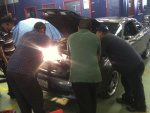 Misfire Buick LaSabra - a Buick LaSabra misfire cause a No Start Condition?
CLICK the LINK BUTTON and SHARE with your FRIENDS !!!  
---