---
About Page
---
My name is Nate Davis, and I'm a certified ASE A8, A6, and ASE L1 certified.

I'm also a License Bureau Automotive Repair License Smog Instructor for over 25 years. 

I have also been a drivability Tech my whole career and love the challenge 

of fixing something you can't see.
---
When I looked back, I started my teaching career with a subject I always tried to avoid, which was the electrical course. 
That decimal point always threw me off in my earlier career.

Now that's my favorite subject to teach along with Specific Diagnose and Repair Class.
My teaching experience includes teaching at several schools.
1.) Bear / Allen Training Institute
2.) Snap-On Training
3.) American Automotive Institute 
4.) Now I work for Los Angels Unified School District as an Engine Performance / Certified B.A.R. Smog Instructor.
I have been working at LAUSD for about 20 years teaching engine performance, drive ability, and, of course, the Smog Program.
You may have heard about my class because I have heard from students looking for a school to join that my teaching style is challenging.
I have also heard of people selling their program base on my name saying, don't go over there. He's too hard, and the program is too tough for you. 
Join our school it's much easier, and we will get you done quicker. 

I think it's funny because I even heard it from students who had to come
through my class from the same school from another level at the place I
work. 

One student said all they saw when walking past my class looking through
the window was the students' heads down in a book.
Or he said the students were on a computer or even working in the shop,
not knowing that the students were fully engaged with the lesson. 

---
Meet Idania Alfaro previous Student

Now a Smog Inspector who

Pass the State Test on her first try
---
The State Exam has a 60% failure rate.

My goal is to get YOU to PASS that State Smog Test, and I enjoy every
moment of trying to beat that State Exam.
---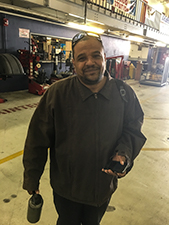 Students fail the ASE test or either
the Smog Inspector or Smog Repair
Certification exam have seen my YouTube course. 
Some of them eventually join my class, the one
I am especially thinking of is Edoho.
Edoho had seen me on YouTube and decided to join the class. His goal was to pass the state exam for his Smog Repair License. 
He failed the State Exam a few times and was determined to pass the Smog Repair License Exam.
---
He also couldn't figure out how he could pass the course but not the state exam.
So I'm going to tell you what I told him, the first day I met him and after he told me his story.
Quote:

If I could get you to PASS, I could get a lot of other students to PASS.
---
The reason I said that is because before meeting Edoho, my smog program is set up for one reason, and that reason is to get YOU to PASS the State Exam. 
Now it was time to test it with someone who had limited testing experience, which was his crutch. 

So he joined the class, and he was a good student, and he completed the course.

Now it was time for him to take the state exam.
He made his appointment and the date has finally come, he called me, and I wish him luck.

Three hours later, I received another call, and it was Edoho.

He failed again; my response no problem, let's talk about what went wrong and what you don't understand.
By the way, I told him to make his next appointment 4-8 weeks out.
Remember what I said earlier?
My whole course is made for one objective to get YOU to PASS the state exam and learn something in the process. 

So that means I had to readjust individual sections in my training program and rewrite my assessments "New Lesson Plan," again, LOL.

We went through what he didn't understand and how he interprets certain questions, and I showed him some techniques he should apply when taking a test. 

Now the test day was here, and again I wish him luck.

I think I was more nervous than he was.

Later that day, I received a phone call, and it was Edoho, and ask him what happen this time.

He PASSED!!
---
5 yrs later, Edoho was in my Smog Repair Class, renewing his license as a Test and Repair Technician, and now he has a little girl. 
So the students I mentioned earlier who were nervous about coming into my class said this to me.
Quote:

I was nervous at first, but your class isn't what I thought when I walked by looking through the window.  When I saw the students with their heads down in books and writing or in the shop, they looked stressed.
Now I realize since I'm in the class, they were preparing for the state exam.

As I said earlier, I have heard of other people trying to sell a $2,000 plus course base off what I mention earlier, that my course was to difficult to pass. 
My program is set up for YOU to PASS my course and the State Exam NOT just the class.

---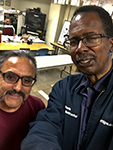 let's meet Jerry.
I would have bet a paycheck Jerry would have passed this test the first time. 
But he broke the number one rule when taking a test do not overthink the question, and like Jerry, he did.

His results were, let's say, not too pleasing.
I worked with Jerry for two weeks, and the day
before I uploaded this page, he called me and said thanks he pass the exam. 
---
Now the level of difficulty within the course is base on YOUR perspective.
Do YOU what to learn something and PASS the course and have a better chance on the state exam or go to sleep and just PASS the course?
When writing this, there are no evaluation scores on schools on how well our students are doing or the passing rate of students from certain schools on the state exam, but it was I would post mine GOOD or Bad.
---
Former Students
---
Joel Martinez

His friends told him not to come to

the school because they heard it was too hard.

He PASS the state test the first round.

Also he had minimum experience before the class.
Jesse Valazquez

Pass the Smog Inspector and the

Smog Repair license Exam the first try.
---
Live Shop Smog Failure
---
I'm also a certified Smog Tech and have worked as a drive ability/engine performance technician for many years.

Our school is a certified Star Test and Repair Shop. 

Our students receive real-world learning experience as many other schools offer.

Click Here To Learn more about the school and the smog tech program. 



---