---
SmogCheck-Functional-Test
---
SmogCheck-Functional-Test

All 1995 model-year and older vehicles equipped with EGR and subject to a two-speed idle test shall undergo the EGR functional test.
Inspectors must follow the functional test procedures prescribed by the vehicle man

---
SmogCheck-Functional-Test
 SmogCheck-Functional-Test - Fuel Cap Integrity Test
As prompted by EIS, "Emission Inspection System" perform the fuel cap integrity test on all 1976 to 1995 vehicles, equipped with evaporative controls that can operate on gasoline, including dual/bi-fueled vehicles.
The fuel cap integrity test is a two part test visual and functional. 
Visual inspection:
As prompted by the EIS, inspect the fuel cap(s) for proper fit and installation. The inspection result entries are "P" for Pass, "F" for Fail and "S" for Missing. If the fuel cap threads are stripped or the fuel cap seal is missing or damaged, or the fuel cap is not designed for the vehicle, the fuel cap shall fail the visual inspection of the smog inspection. 
Some vehicles are cap less or have a has a cap less fuel filler neck, so on this vehicle there is no functional check for the fuel cap. Enter N/A  due to the fact you have no ability to check or perform a functional check on the fuel cap.
Functional check:
This check applies only to vehicles equipped with evaporative emission control systems. Check the fuel cap tester application manual to determine the correct cap adapter. Following the "EIS" Emission Inspection System and cap tester prompts, attach the fuel cap(s) to the adapter and perform the test. The test results are automatically captured by the "EIS" Emission Inspection System.
If no adapter is available from the tester manufacturer (for the vehicle being tested), enter "No adapter available" as prompted by the EIS. For vehicles newer than 1995 do not perform the functional test, enter "No Adapter is available" as prompted by the EIS.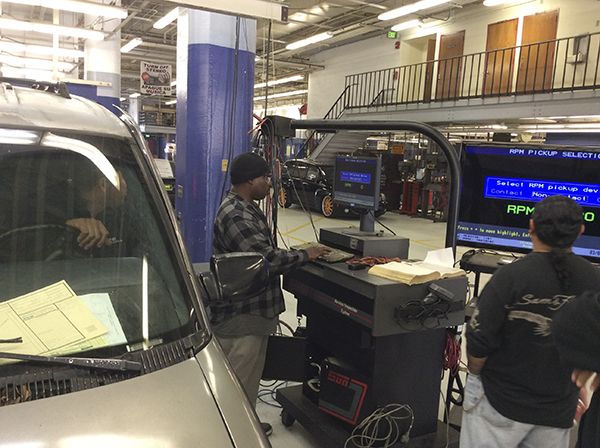 SmogCheck-Functional-Test

Fill Pipe Restrictor Functional Test – REPEALED (MARCH 2015)
The fill pipe restrictor test no longer applies. The EIS may prompt for the fill pipe restrictor test for vehicles undergoing an initial Smog Check inspection. If so, enter "N" into the EIS fill pipe test prompt.
The fill pipe restrictor test usually applies to vehicles that comes out of state into California. If the restrictor goes into the filler neck opening it doesn't automatically fail.
The "EIS" Emission Inspection System will ask the technician does it looks like anyone has damage or enlarge the opening for gas. If the technician says yes the EIS will fail the vehicle, but if the EIS says no the EIS will pass the vehicle. 
B.A.R WEBSITE: Click Here
Return to Smog Inspector Home Page

CLICK the LINK BUTTON and SHARE with your FRIENDS !!!  
---