---
Smog-Check-Starting-Conditions
---
Smog-Check-Starting-Conditions

• (ASM only) Verify that the vehicle cooling fan is positioned correctly. The fan must be used when the ambient temperature reaches 72º or above.
• As prompted by the EIS, connect or place the RPM pick-up device.
If the RPM doesn't read an RPM signal on the EIS analyzer, try putting the RPM lead on another wire to try to get another signal. 
• As prompted by the EIS, insert the sample probe in the tailpipe.
• (ASM only) Lower the vehicle hood during the emissions test.

---
Smog-Check-Starting-Conditions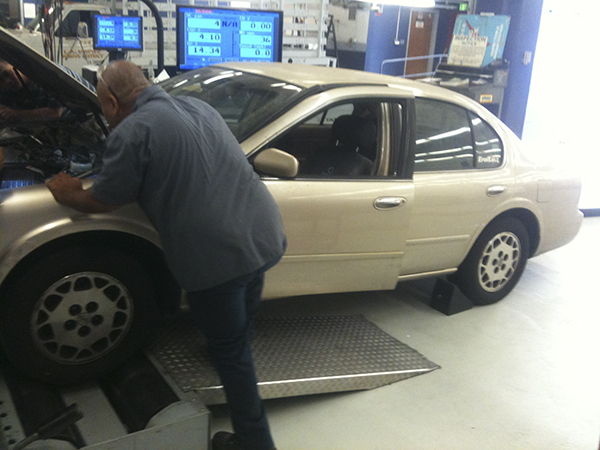 Acceleration Simulation Mode (ASM) Emission Inspection
Vehicle model-years 1976 - 1999 that are registered in the Enhanced Program area require an ASM inspection; excluding motorhomes and heavy-duty vehicles meeting certain conditions. See examples below.
The ASM emission inspection includes two loaded mode sequences known as the 50/15 test and the 25/25 test.
Inspectors must ensure that all the applicable before-test-conditions specified in section 1.2.0 are met before beginning the ASM inspection. Once the applicable before-test-conditions are met, follow the EIS prompts to conduct the ASM inspection.
CAUTION! Be aware that some vehicle designs are incompatible with a two wheel drive (2WD) dynamometer. Any attempt to operate such vehicles on a 2WD dynamometer could cause injury and/or may damage the vehicle. If the vehicle is not compatible with the ASM inspection then a TSI inspection shall be performed.
The following are examples of vehicle designs that are not compatible with the ASM test and therefore must receive the two-speed-idle test:
• Full-time all wheel or four wheel drive; • Traction control that cannot be disabled; • Body or chassis modifications made for business purposes that make the vehicle incompatible with loaded mode testing;
• Unable to safely fit on the dynamometer;
• Motorhomes as classified by the Department of Motor Vehicles over 8,500 GVWR; • Heavy duty vehicles with GVWR between 8,501 and 9,999 and with an unloaded drive axle weight over 5,000 pounds.
• Heavy duty vehicles with GVWR over 9,999.
Notes:Smog-Check-Starting-Conditions
For the purposes of a Smog Check inspection, the term "unloaded" shall mean that the vehicle is not currently transporting loads for delivery or is not carrying items of a temporary nature (bricks, sand, lumber, etc.). The GVWR includes items that have been welded, bolted or otherwise permanently affixed to the vehicle, and tools, supplies, parts, hardware, equipment or devices of a similar nature that are routinely carried in or on the vehicle in the performance of the work for which the vehicle is primarily used. To ensure the appropriate test and emission standards are applied, always follow the EIS prompts.