---
Smog-Check-PreInspection
---
Smog-Check-PreInspection

The pre-inspection mode provides an option to assess the vehicle's OBD, emission controls and tailpipe emissions before undergoing the official Smog Check inspection.
The advantage of this prevents the vehicle from be tagged as a gross polluter if it fails for excessive emissions. Once the vehicle fails as a gross polluter and an ordinary test and repair vehicle fixes or lower the emissions within limits. 
That station can not certify that customers vehicle because now it's a or was a gross polluter.
Now since the vehicle failed as a gross polluter only a Star Test and Repair, Star Test Only or Referee can certified it. 
To prevent the inconvenience offer the customer a pre inspection if you think the vehicle is running poorly. 
The pre-inspection procedure is identical to the official Smog Check inspection except that no certificate is generated and the vehicle is not subject to the gross polluter requirements, regardless of the emissions results.
Pre-inspection test results are transmitted to the vehicle information database (VID) but a certificate is not transmitted to the DMV.
The station shall provide the customer a copy of the pre-inspection vehicle inspection report (VIR).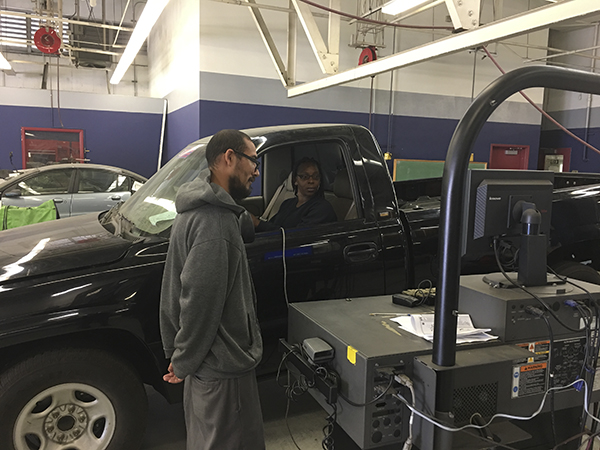 Smog-Check-PreInspection

If a customer chooses to authorize a partial pre-inspection, the licensed inspector or an authorized representative of the licensed Smog Check station shall inform the motorist that the partial pre-inspection will not fully indicate the likelihood of the vehicle passing a subsequent official inspection.
An example of a partial pre-inspection is using the analyzer in manual mode to check tailpipe emissions only.
The limitations of a partial pre-inspection must be fully disclosed to the customer both orally and in writing on the estimate and invoice. 

Smog-Check-PreInspection

---
 Pre-Inspection Repair
With customer authorization and an estimate provided, licensed technicians may perform repairs on vehicles before or during the Smog Check inspection.
Any repair must be appropriately documented on the invoice and entered into the EIS or OIS when prompted
A customer comes into your shop and is worried about failing the smog inspection test, you can offer the customer a Pre Test
Smog-Check-PreInspection

Any repair conducted during the inspection shall be limited to the following: replacement of the fuel cap(s) (EIS provides a mid-inspection fuel cap replacement opportunity upon a failed cap test), minor repairs of components damaged by the station personnel during the inspection at the station, or minor repairs such as the reconnection of hoses or vacuum lines.
Any repair performed during the inspection must be completed before starting the emissions test portions of the Smog Check inspection, aside from the EIS prompted fuel cap replacement provision.
                             Return to Smog Inspector Home Page       

---
Click Link Below For Next Smog Inspector Practice Test 
---
---