---
Smog-Check-Executive-Order
---
Smog-Check-Executive-Order

Visual Inspection Inspectors shall conduct the visual inspection in accordance with the inspection procedures described in the smog check manual www.smogcheck.ca.gov and as prompted by the EIS or OIS. 
No person shall enter any false emission control system information for the vehicle being tested. Nor shall any person enter any emission control information for any vehicle other than the one being tested.
The visual inspection also includes a Liquid Fuel Leak inspection and Visible Smoke Test. 

Smog-Check-Executive-Order

Visual Inspection Procedures Vehicle Emission Control Requirements: Inspectors must use all available information necessary to determine the vehicle's emission control requirements, including but not limited to:
• the under-hood emission control label
• a current emission control application guide;
• emission control repair manuals;
• emission component location guides;
• manufacturer emission control recalls;
• vacuum hose routing diagrams;
• California Air Resources Board (CARB) aftermarket parts listings;
• the aftermarket part label
• and any reliable vehicle manufacturer sources.
Note: Some diesel-powered vehicles are equipped with a second or additional emission control label affixed to the engine. Pass/Fail Criteria: 
---
Smog-Check-Executive-Order
---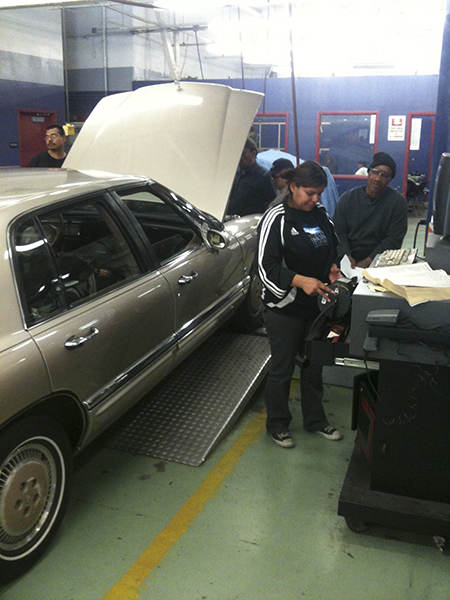 A vehicle has a clear timing cover installed on the front of the engine and the adjustable timing gear assembly is clearly visible. This vehicle will need an approved Executive Order. If there is an approved Executive Order for this vehicle, select pass under Other Emission Related Components.
---
Smog-Check-Executive-Order

Pass/Fail Criteria: To pass inspection, the required emission control system(s) must be complete and installed in accordance with the vehicle manufacturer's original California or Federal certified configuration, or, when applicable, in accordance with a CARB aftermarket configuration.
If any required emission control systems are found to be tampered or defective, the vehicle shall fail the inspection. 
If a vehicle is equipped with parts that modify the original emission control configuration, inspectors must verify whether those parts are CARB approved or exempted.
If the installed parts are not CARB approved or exempted, and the original emissions control configuration has been modified, the corresponding emission controls are considered "Modified" and the vehicle shall fail the inspection.
For more information regarding verification of aftermarket parts, see Not all aftermarket parts modify the original emission control configuration, and therefore do not require CARB approval.
---
Smog-Check-Executive-Order
---
To verify CARB approval, inspectors must check the Aftermarket Parts Label affixed either directly to the part or near the part.
This label contains a CARB Executive Order (EO) number that can be used to verify approval.
Using the EO number, reference the CARB EO parts listings and/or part manufacturer catalog to verify approval.
The CARB EO parts listings contain information about parts with CARB EO numbers, the part manufacturers and the applicable vehicles on which the parts can be installed.
The CARB EO part listings and information about catalytic converters can be found on the CARB website: www.arb.ca.gov.
Inspectors may also contact ARB at (800) 242-4450 if they need additional information.
The CARB aftermarket parts listings may also provide information about modifications that are necessary and acceptable for installation of a particular part, kit or system.