---
OBDII-Readiness-Fails
---
OBDII-Readiness-Fails

The paragraph below shows the typical number of incomplete OBD readiness monitors that are allowed to pass the OBD test portion of a Smog Check inspection.
For the OIS Onboard Inspection System or the EIS Emission Inspection System. 

---
OBDII-Readiness-Fails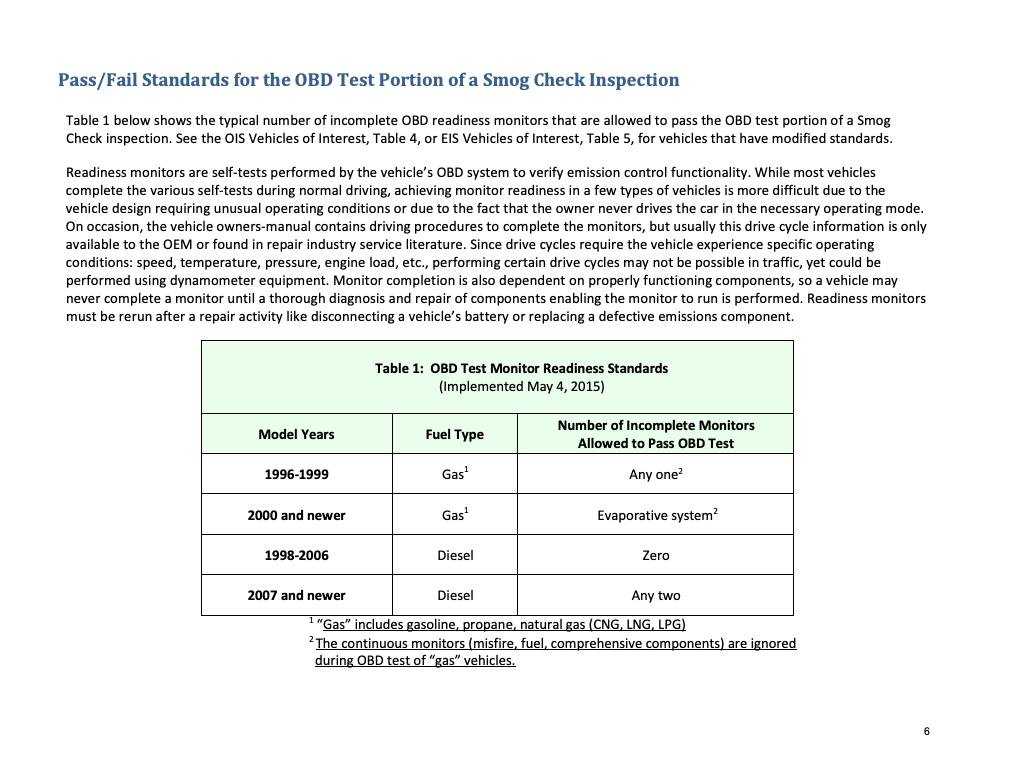 Readiness monitors are self-tests performed by the vehicle's OBD system to verify emission control functionality. While most vehicles complete the various self-tests during normal driving, achieving monitor readiness in a few types of vehicles is more difficult due to the vehicle design requiring unusual operating conditions or due to the fact that the owner never drives the car in the necessary operating mode.
On occasion, the vehicle owners-manual contains driving procedures to complete the monitors, but usually this drive cycle information is only available to the OEM or found in repair industry service literature.
Since drive cycles require the vehicle experience specific operating conditions: speed, temperature, pressure, engine load, etc., performing certain drive cycles may not be possible in traffic, yet could be performed using dynamometer equipment.
Monitor completion is also dependent on properly functioning components, so a vehicle may never complete a monitor until a thorough diagnosis and repair of components enabling the monitor to run is performed.
Readiness monitors must be rerun after a repair activity like disconnecting a vehicle's battery or replacing a defective emissions component. 
MORE INFORMATION B.A.R. WEBSITE
---
OBDII-Readiness-Fails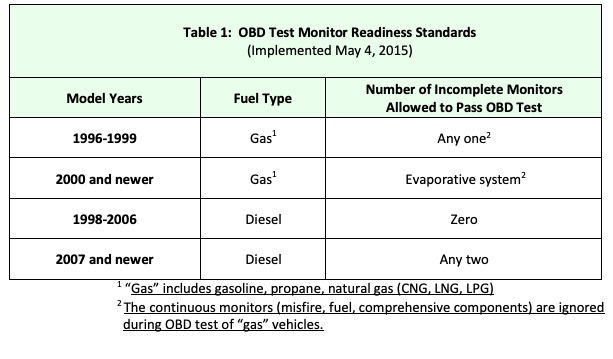 Vehicles fail for no communication for a variety of reasons. Common reasons include but are not limited to:
Damaged OBD connector or wiring,
Aftermarket stereo, transmission computer response instead of engine computer response, and invalid data from the vehicle.

Malfunction Indicator Lamp (aka: "Check Engine" light or MIL) related failure criteria for the OBD test portion of a BAR-97 or OIS inspection.
OBD Test MIL Standards Vehicles Pass / Fail Standard All with OBDII Pass MIL illuminates when key on engine off (KOEO) MIL turns off when engine running
(KOER) Fail MIL does not illuminate when key on engine off (KOEO) MIL illuminates when engine running (KOER)

---
PDTC: OBDII-Readiness-Fails

A PDTC "Permanent Diagnostic Trouble Code" check is being added to the BAR-OIS Smog Check inspection on July 1, 2019.
PDTCs are very much like regular diagnostic trouble codes (DTC) but they cannot be reset by disconnecting the vehicle's battery or cleared by using an OBD scan tool.
The only way to clear a PDTC is by fixing the underlying problem with the vehicle that originally caused the PDTC and then allowing the vehicle sufficient time on the road to re-run the monitor that identified the problem in the first place.
When the monitor runs without identifying a problem, the PDTC will self-clear. Below shows vehicle model years that are subject to the Permanent DTC (PDTC) check.
Permanent DTC (PDTC) Standards
Model Years BAR-97 or OIS Standard 1996 - 1999 BAR-97 Not Applicable
2000 - 2009 on the OIS Not Applicable
2010 & Newer vehicles on the OIS:  Vehicle fails when a PDTC is present 

---
1. Some 2010 vehicles do not support PDTC. Those without support for PDTC will not be subject to the PDTC check.
2. A vehicle with a PDTC stored will fail the PDTC check regardless of whether the MIL is commanded ON or OFF.
3. PDTC presence will be ignored if the vehicle has completed at least 15 warm-up cycles and been driven at least 200 miles since its OBD information was last cleared (as determined by Mode $01 PID $30 and $31).
4. BAR is aware of some vehicles that have trouble properly clearing certain PDTCs. BAR is working with the California Air Resources Board (CARB) to ensure that known problematic vehicles are addressed by vehicle manufacturers. Until then, these codes will be ignored by BAR-OIS. See Table 6 for a list of these vehicles.
5. Vehicle manufacturers have issued extended warranties, recalls and repair campaigns for some vehicles that have trouble properly clearing PDTCs. These vehicles will be listed in Table 6
When one of these vehicles fails for the PDTC listed in Table 6 Click Here, please refer the motorist to the dealer for covered repairs.