---
Fuel-Injection-Delivery-Theory and Operation - 6
---
Fuel-Injection-Delivery-Theory:
Injectors are operated in different ways TBI, Ganged Injection and Sequential Injection, MPI, etc etc
---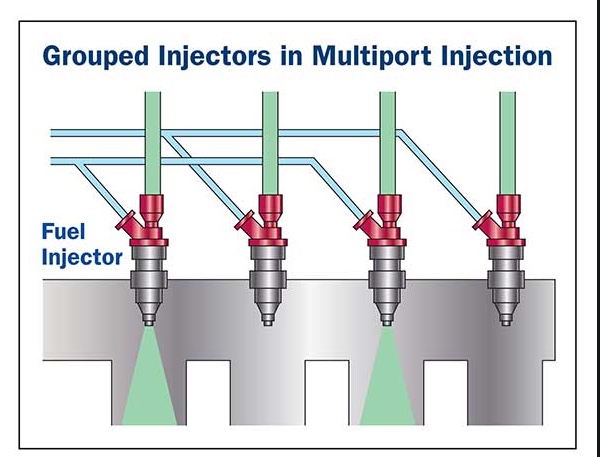 Ganged injectors are fired in a gang "grouped" or bank theory which means the PCM will fire 4 injectors at the same time 

---
Fuel-Injection-Delivery-Theory:
Sequential fuel injection or sequential port injection will fire the injections with the ignition firing order.
Sequential fuel injection triggers each injector nozzle independently and also timed with spark plug ignition.
The sequential injection will spray fuel immediately before or as their intake valve opens. This will increase efficiency and improve emissions.

---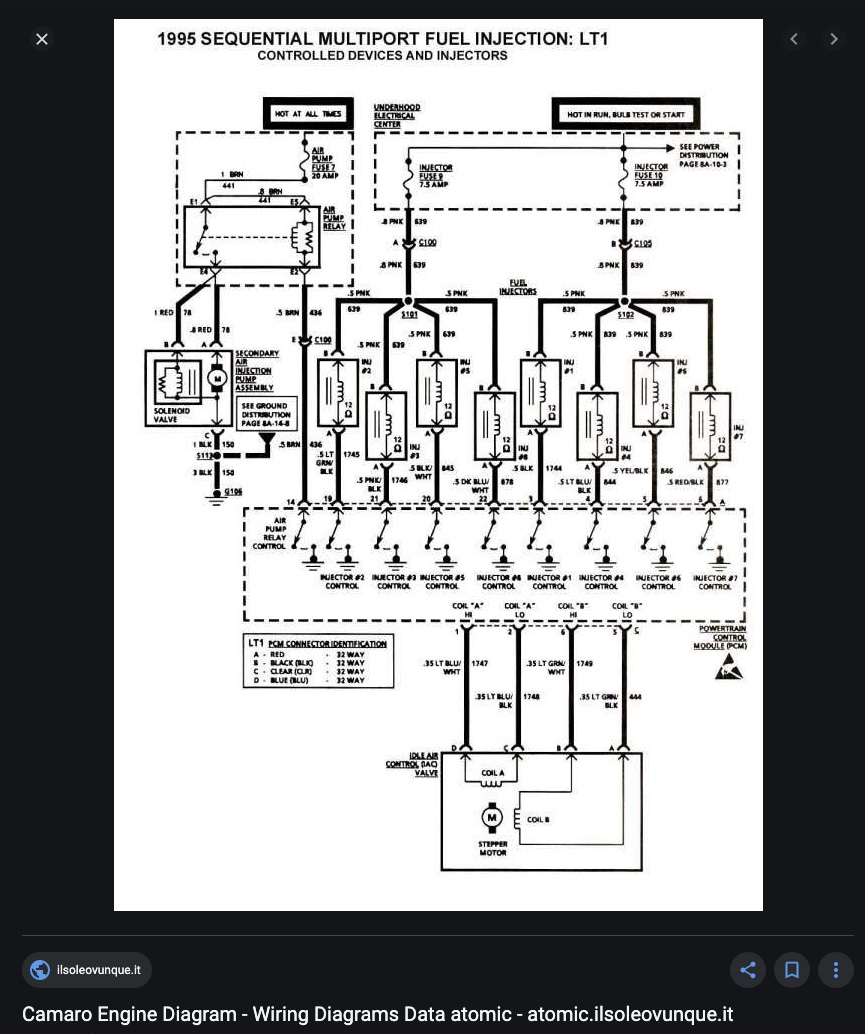 Sequential Fuel Injection Wiring Diagram

---
Fuel-Injection-Delivery-Theory: - 13
Current Limiting
---
Fuel-injection-Delivery-Theory:
A standard fuel injector "saturated type" can have a high resistance injector of 12 - 16 ohms or depend on the vehicle like GM's can have a low resistance injector of 2 - 4 ohms also or a high resistance injector within the TBI family.

On these types of injectors depending on the requirements the injectors are turned on or off as long as the PCM requirements are needed.
---
---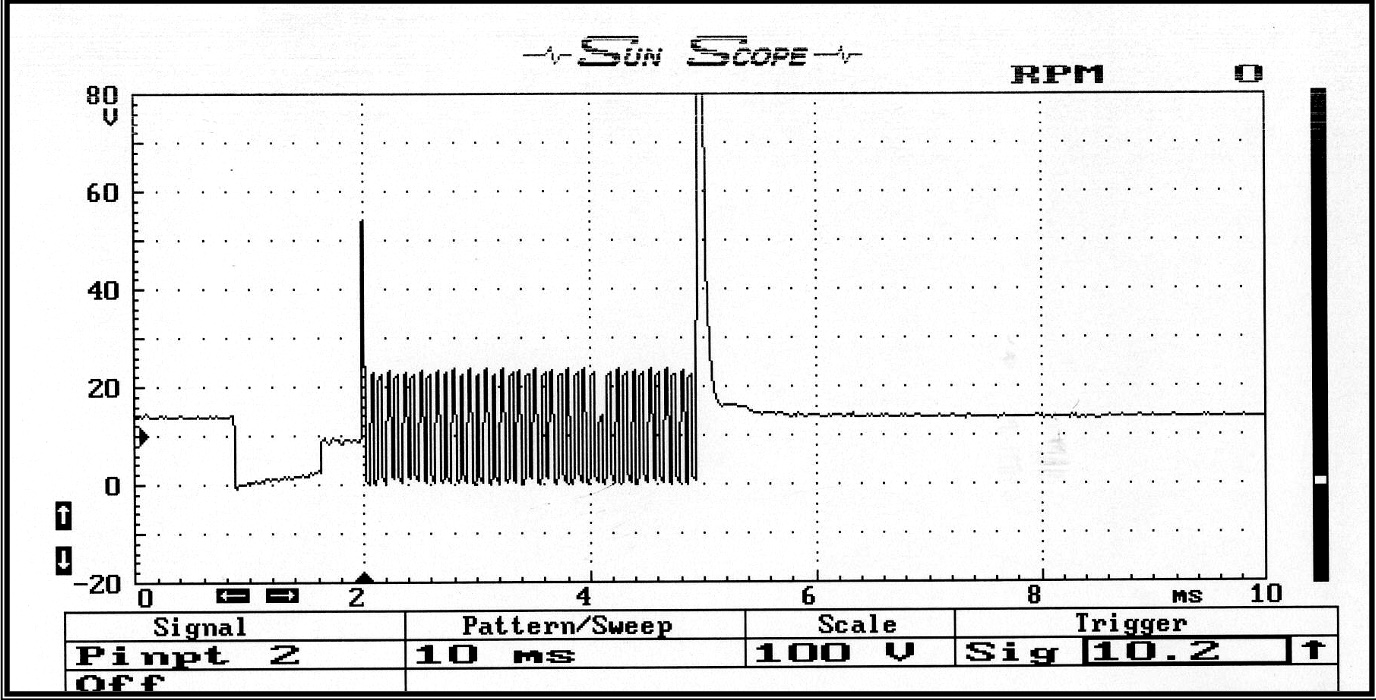 There is also a peak and hold or pulse-modulated fuel injectors called current limiting type.
These particular types of injectors have a resistance of 2 to 4 ohms. When turned on the current will rise quickly opening the injector quickly. 

---
This lasts about 1 millisecond and current flow which can reach about 4 amps but the PCM will limit the current flow to about 1 amp to hold it open.

On this particular injector on the second hold pattern, the injector pulse width will increase or decrease on time, but the first circuit that gets the injector open quickly will only last approximately 1 millisecond.
---
Fuel-Injection-Delivery-Theory: Mechanical Condition - 25
---
Fuel-Injection-Delivery-Theory:
Looking at an injector on a lab scope is a good practice especially if you want to see the electrical function of the injector.
Using the voltage settings or current probe can give you an inside look at the functional operation of the injector.

---
---
You can use cursors to see the on-time of the injectors, voltage levels and voltage height.

On the current ramp, you can see when the pintle moves or opens, " a little dip" in the ramping section.
You can also see when the injector closes in the voltage wave form on the tail section.

---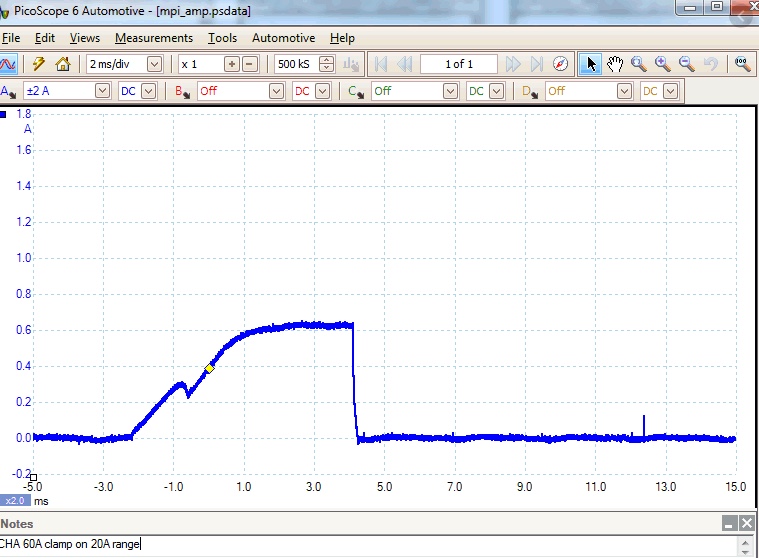 ---
Keep in mind this is the electrical or mechanical function of the injector but it doesn't tell you if fuel is actually spraying from the injector.
You can have a plugged orifice not letting fuel come out of the injector. 

The injector can also be partially plugged and reducing fuel volume which the lab scope can not catch or see.

To diagnose, this issue you will have to go old school and use a fuel pressure gauge or injector pulse tester. 

---
There is a mini test associate with this video
---
Secondary Ignition Pattern
If you are in the Update Training Class "UT050" for our asynchronous assignment is for you to read this page and explain your understanding

Secondary Ignition: Choose one of the subjects below (1-5) in two or three sentences in your own words explain what you have learned from this page
1.) Explain ionize
2.) How can low available secondary voltage been seen from the waveform
3.) How can fouled spark plug be seen on the secondary waveform
4.) Explain the use of looking at the raster pattern
5.) Explain the use of looking at the parade pattern

---
Use your Tech Help book from the zoom synounous class as reference 
---
Join my facebook group with over 500 members: Click Here
School's website Page: Click Here